---
To Your Greatness…..!!!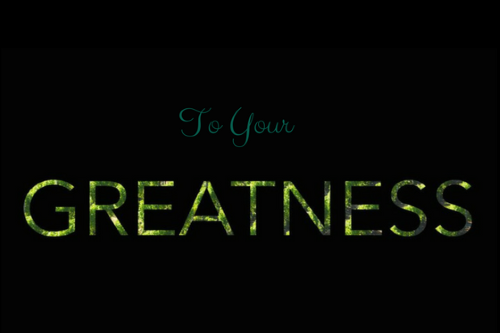 03

Nov 2017

Many people dream of greatness, of influence and of power. Many aspire to be a figure of authority, to make a huge difference in their generation and among their peers, but only few make that goal; that dream a reality. Many well-known teachers around the world believe that we all have the seed of greatness in us, but then why is it that only very few people have reach that height or attained that status?

The reality is that, while many of us dream of greatness, only a few dare to take first steps into bringing our big dreams to reality

. First, we must understand that dreaming about being or becoming great is only a step, we must be ready step out and delve into the unknown towards the fulfillment of our dreams, goals and aspirations; and as you do that, one must understand that resilience, grit and perseverance are necessary ingredients. One must be ready to brace up to every challenge that he might encounter and put on the never-give-up attitude.

The price of success can only be paid in the currency of dedicated labor, commitment and dedication. Every dream that greets the horizon of reality is founded on two basic principles; hard work and character and those who will wield these tools must be ready to roll up their sleeves and train their hearts and minds not to faint easily. With these, you will be able to surmount every challenge that comes your way as you proceed to make your dreams come true.

In the business world we talk about key performance indicators, those key metrics and highlights that give you a feel of whether you are performing to the required standard and whether you are achieving the desired levels of performance. If you will ever achieve success, you must be able to accurately define it and have a system in place to check back and see how well you are doing. This self-check mechanism is what will enable you to guide and steer your life, business, career or whatever endeavor you are embarking on in the right directions, hitting the right targets and ultimately achieving the vision that you set about to achieve. If you do not define, measure and monitor these indicators you may find yourself settling for less than the best, you will be satisfied with little and you may easily get carried away with small progress. Success is not money! Quite a startling statement I know. Yes we need money and yes we can be more comfortable when we have a few millions in the bank but that may not be the ultimate goal. Success is something that is achieved when a goal is met. It does not have to be money and it may not be just. It has more to do with courage, resilience, faithfulness, grit, staying power and wisdom aimed towards achieving a specific goal.

If you want a shot at greatness, understand that it may not be an easy route. However armed with a careful deliberate strategy, dogged determination and an all-consuming vision you will make it. Even when you meet obstacles and challenges, you will find a way to go through them, over them and around them as you head towards your greatest accomplishments yet, armed with the weapons of patience, skill, wisdom, resilience and sheer courage.

Like every true character or entity in life, success has a blueprint, it has basic principles that must be fulfilled before it is earned, like an athlete trains his body and an intellectual exercises his brain, so does a successful man or woman horn his or her skills and orientation. To be successful in life entails living by such ethics that set you apart. That extra push you give life, that extra hour you study, that extra attention you paid, that extra help you rendered can be the ingredient for your greatness. The world will see you shine and wonder how you did it, but you know that in the backroom you have been working, grinding, pushing and shoving with a dogged desire to grow, add value and become the best at your craft.

To your greatness….!!!!

If you like this article, please feel free to leave a comment below and share it with your network. The more we discuss these life issues, the better our chance of making a difference. You can see more of my work here, but if it works better for you, drop me a message in my inbox, I'd love to have a conversation with you.